Essential Fatty Acids Market to Expand at a CAGR of 9.5%, through 2007
Free Press Release DB | Press Release Date : Jun 19, 2017 Download
Future Market Insights has announced the addition of the "Essential Fatty Acids Market: Global Industry Analysis and Opportunity Assessment 2017-2027" report to their offering.
Omega-3 product type segment is expected to witness higher growth compared to other segments during the forecast period
The Omega-3 segment of the global essential fatty acids market is estimated to be valued at more than US$ 3,300 Mn by 2017 end and is expected to expand at a CAGR of 10.0% over the forecast period. By volume, the segment is anticipated to reach 417,518 Metric Tons by 2027 end from an estimated 160,021 Metric Tons in 2017. The Omega-3 segment has a higher growth as compared to other product types due to the fact that EPA and DHA concentrates are being produced and sold for a variety of applications. They are widely used in preventive medicine for chronic diseases and as a nutritional requirement for brain development in children. Among all essential fatty acid types, Omega-3 stands out with an incremental opportunity of a little more than US$ 5 Bn over the forecast period.
Increasing awareness and a revival in demand are boosting the growth of the Omega-3 segment
Excessive consumption of saturated fat increases the risk of coronary heart diseases, stroke or cardiovascular diseases. Essential fatty acids reduce the risk of developing heart diseases. Replacing saturated and trans fats in the regular diet with heart-healthy mono- and poly-unsaturated fats helps lower LDL cholesterol levels and decreases the risk of developing cognitive impairment among adults. Moreover, The American Heart Association and the World Health Organization recommend a diet high in Omega-3 essential fatty acids. These organisations also recommend the consumption of fish especially fatty fish twice a week. Such initiatives are boosting the demand for Omega-3.
Request For Sample@ http://www.futuremarketinsights.com/reports/sample/rep-gb-4097
With the upcoming new generation of drugs containing Omega-3 such as Vascepa and Epanova, there is a revival in demand among consumers – especially those who are allergic to other modes of consumption such as fish oils and fish products – for consuming Omega-3 essential fatty acids. Vascepa is a new prescription fish oils drug for tryglycerides, whose levels are linked with high risk of heart diseases and pancreatitis. As companies are willing to invest more in these new generation drugs, the earlier restricted consumption is bound to increase, thus fuelling more demand for Omega-3.
Essential fatty acids available in the market are free from any kind of metal impurities. Producers are further trying to improve the quality of Omega-3 essential fatty acids by using advanced technology for the automation of processes and the development of environment friendly processes. The purity of essential fatty acids has been a matter of key concern among the general population, and as Latin American manufacturers have significant control over fisheries, this comes in hand. Generating better trust among consumers regarding the quality and benefits of Omega-3 is driving market demand.
Send An Enquiry@ http://www.futuremarketinsights.com/askus/rep-gb-4097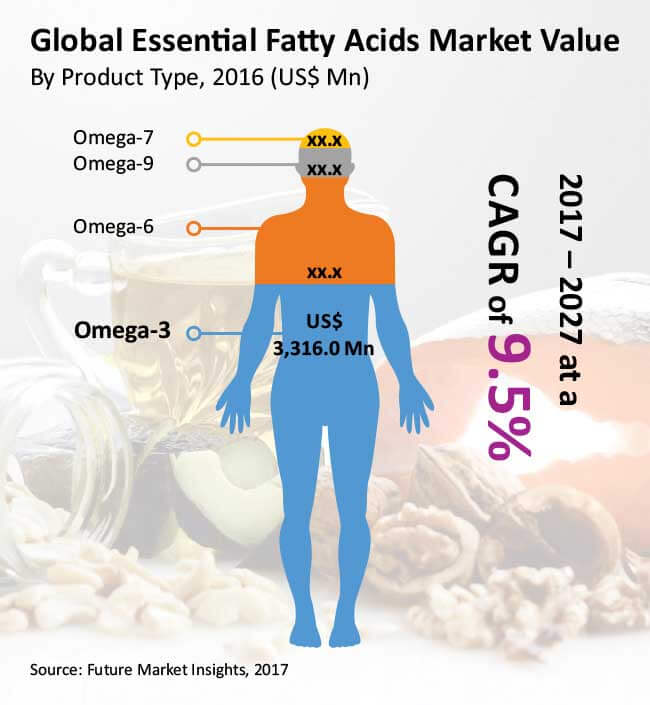 Omega-3 is the most prominent product in the APEJ essential fatty acids market
Omega-3 essential fatty acids is a market leader estimated to hold more than 70% value share of the total Western Europe essential fatty acids market in 2017 and is further expected to gain more than 225 basis points to account for close to 80% market value share by 2027 end. This can be attributed to the multiple extraction technologies developed by many companies in the region. Companies such as Arctic Nutrition produce Omega-3 essential fatty acids and market them under the brand name Romega. Omega-3 is the most promising product type in the APEJ essential fatty acids market, estimated to account for more than 75% market value share by 2027 end.
Browse Full Report@ http://www.futuremarketinsights.com/reports/essential-fatty-acids-market
Contact Person & Company
| | | |
| --- | --- | --- |
| Name | : | divakar kolhe |
| Company | : | |
Contact Numbers
| | | |
| --- | --- | --- |
| Telephone No. | : | |
| Fax No. | : | |
| Handphone No. | : | |
Website
| | | |
| --- | --- | --- |
| Website 1 | : | |
| Website 2 | : | |
| Youtube | : | |
| PR Tags | : | |
Address
Contact The Author
More Press Release From Author
Disclaimer
The author of the press releases are solely responsible for the content of their press releases. Freepressreleasedb.com can't be held liable for the content posted by author. Please check the accuracy of the press release before using the press release. If necessary please contact the author. Thank you.